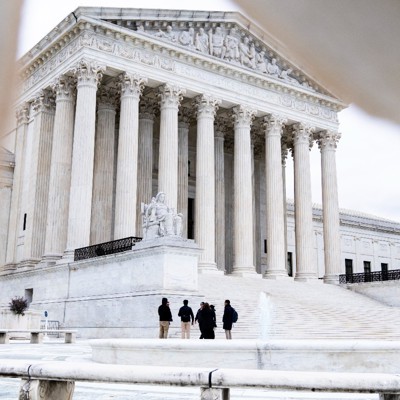 Supreme Court Takes on Case Challenging FLRA's Longstanding Jurisdiction Over National Guard Civilians
The Supreme Court appears poised to overturn nearly 40 years of precedent, as it announced on Monday that it will hear a case challenging the jurisdiction of the Federal Labor Relations Authority to compel states to grant federal sector collective bargaining rights to civilian employees of state National Guards.
The court on Monday granted certiorari to Ohio Adjutant General's Department v Federal Labor Relations Authority, which means that at least four judges have agreed to consider the case. At issue is whether the Civil Service Reform Act of 1978 empowers the FLRA to regulate the labor practices of state militias.
State National Guards employ a group of Technicians, who are civilian federal employees who perform a variety of clerical, administrative, and technical roles to support National Guard operations. Under Title 10 of the United States Code, which governs the armed forces, these employees are referred to as "dual status technicians" because although they are employed by states and hold a military rank, they are also entitled to the benefits and rights granted to federal employees.
As such, the courts have consistently held, since 1983, that they are federal employees for purposes of federal labor law and that states must permit them to bargain collectively and bargain in good faith with their unions, just as federal agencies. do with their bargaining units.
In the case of Ohio, the state union's contract with the American Federation of Government Employees expired in 2014, and although the state has pledged to continue to bargain in good faith with the union on a successor agreement, in 2016 he circulated a memo saying the state is not bound by either the expired contract or the Civil Service Reform Act. The state then proceeded to reverse union dues payroll deductions from "most" dues-paying members, sparking a series of unfair labor practice complaints that were upheld by the FLRA in 2020.
Ohio appealed the FLRA's decision to the United States Court of Appeals for the Sixth Circuit, where a three-judge panel ruled unanimously against the state. The 11-page decision cited numerous other cases confirming the FLRA's ability to regulate working relationships between state National Guardsmen, both in the Sixth Circuit and other appellate courts, to support its conclusion.
"All other circuits that have considered this issue have also found that state National Guards are executive agencies in their capacity as employers and supervisors of technicians," the justices wrote. "[If] we accepted the guard's argument to the contrary, we would create a circuit split. And given the "unanimity of thought" across the circuits on this issue, we are not inclined to do so."
Robert Tobias, a distinguished practitioner-in-residence at American University's Key Leadership Program and former president of the National Union of Treasury Employees, said he was surprised the court was considering such a case where the judiciary still came to the same conclusion. : that guard technicians are federal employees for the purposes of federal labor laws.
"I guess with this Supreme Court, no previous decision and no precedent is final, and everything can be challenged," he said. "If ever there was unanimity of the Circuit Courts of Appeals on any issue, it certainly is."
Given the unusual circumstances surrounding this case reaching the highest court in the land, Tobias said he was not optimistic that the four-decade precedent would be upheld.
"It could be very important," he said. "This court this session reconsiders a vast array of precedents. Otherwise, why would he grant a review if he did not agree to overturn what every circuit that has looked at this issue in the past has found: that collective bargaining for these people is appropriate.
A decision reversing FLRA jurisdiction could affect the more than 20,000 state National Guardsmen who belong to a bargaining unit, according to data from the Office of Personnel Management in June this year.
"Any employer can voluntarily do whatever they want, but I think they would all give up their [collective bargaining agreements] and they would end," Tobias said. "The union-management relationship would come to an end, just like [Ohio] done in 2014. It would surprise me if a National Guard continued this labour-management relationship.