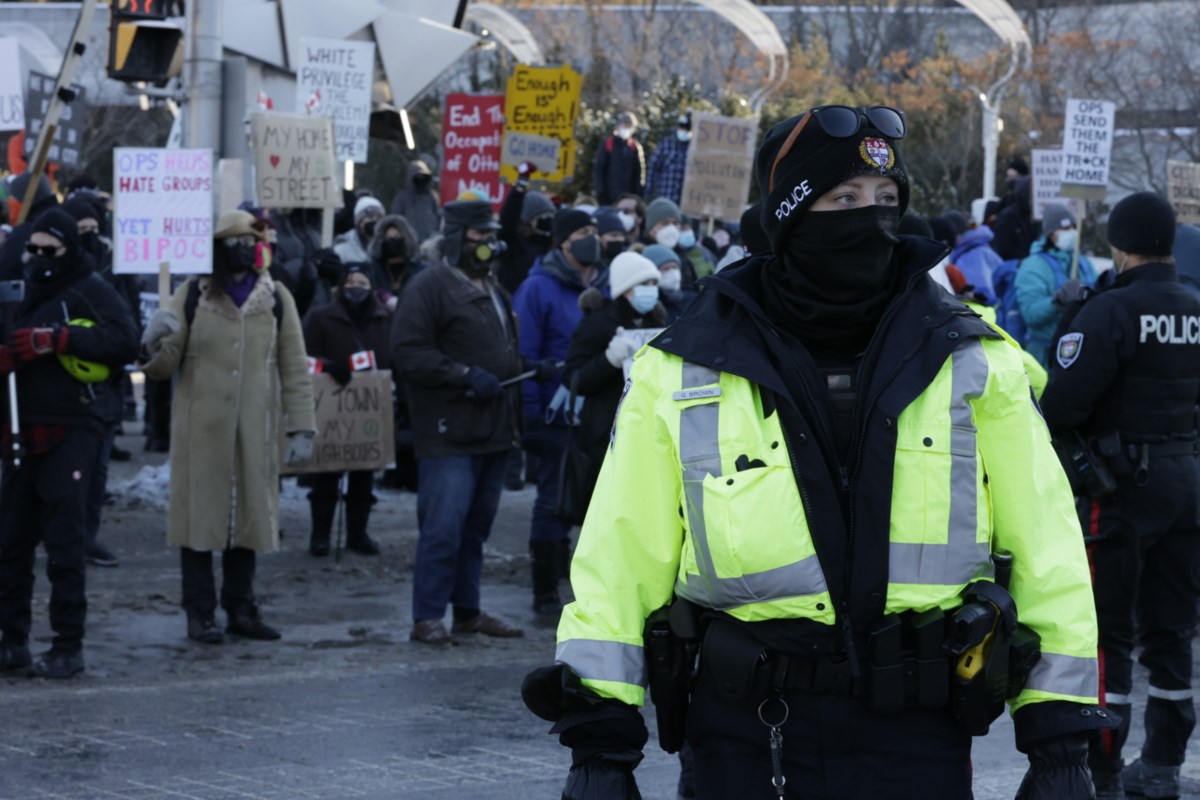 Mayor Calls for Ottawa-Gatineau Police Competency Review Following 'Freedom Convoy' Protest
"We need to act together," Mayor Jim Watson said of Ottawa's policing and security services.
To avoid another security situation like the occupation of a truck convoy in Ottawa in February, City Council is working on setting up an intergovernmental task force that will see all levels of police working together.
Describing the group as "a bit of a dog's breakfast" during the Rob Snow Show on Friday March 25, Mayor Jim Watson said the group's idea was to ensure that all levels of police and security work more smoothly with each other at times. of crisis.
"We have to pull ourselves together to make sure that if, you know, another security breach is about to happen, we can deal with it much faster, more nimbly and in a more agile way – and make sure that the left hand knows what the right hand is doing because we saw with yesterday's testimony, the OPP only got information from their smart sources a week after the convoy had already squatted Wellington Street," explained Watson.
Two motions were presented to council – one by the councillor. Mathieu Fleury, and the other Cond. Laura Dudas — suggesting the idea of ​​such a group, to which the mayor of Ottawa said they are complementary.
Ottawa, in particular, has several police services in the region, and it is time for a plan to come to fruition to ensure better management of such events in the future.
These police forces in Ottawa only include the Parliamentary Protective Service on Parliament Hill, the RCMP who have a role in protecting the Prime Minister, the municipal police who patrol Wellington Street, the Ontario Provincial Police who patrol the highways and finally, the military police who protect the DND installation. , including their headquarters on Colonel By Drive.
"So it's really just to do a better job of coordinating these kinds of activities because every organization has their role and sometimes they work in silos and we have to break down those silos," Watson said.
According to acting police chief Steve Bell's testimony before the Standing Committee on Public Safety and National Security on Thursday, March 24, the police's initial strategy to end the convoy was negotiation.
However, Bell admitted the tactic proved unsuccessful, adding that it was difficult to determine the organizers of the protest due to the "postman and frayed" nature of the group.
"As a police service, we quickly realized that we needed help from all levels of government, in the form of legislative powers and police resources, if we were to safely remove this illegal protest from our streets," Bell told the committee.
Ontario Provincial Police Commissioner Thomas Carrique also told the committee that the occupation was considered a threat to national security about a week before the federal government invoked the Measures Act. emergency.
"We identified him as a national security threat through the provincial operational intelligence office on or about February 7," Carrique explained.
Initially, former police chief Peter Sloly led the Ottawa Police Service (OPS) when the convoy entered the city.
However, on February 15, Sloly resigned from his post amid growing criticism of his handling of operations.
Current acting police chief Steve Bell then took over, but not before the Ottawa Police Services Board hired Matthew Torigian, former Waterloo police chief, without competition. announced on February 16.
This decision drew more criticism, and Torigian retired from work the following day.
Listen to the full segment starting Friday, March 25 on The Rob Snow Show below: