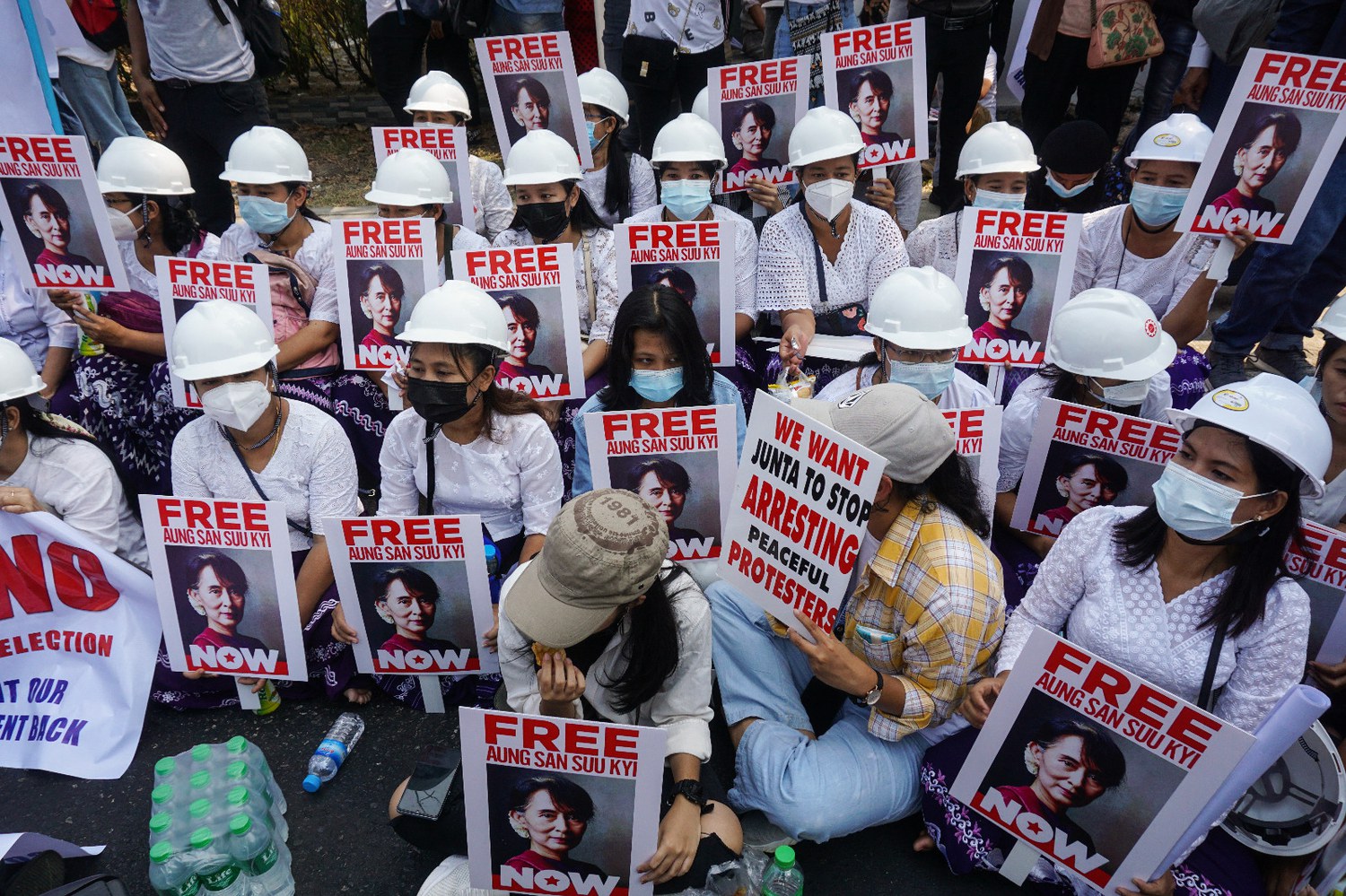 Human rights activists seek Indonesian tribunal's approval for universal jurisdiction — BenarNews
Indonesia's Constitutional Court is considering a petition to revise a human rights law to allow the nation to prosecute and punish members of Myanmar's junta for alleged abuses following its coup Military status in early 2021.
If the review paves the way for the application of universal jurisdiction, Indonesia would be in a position to investigate and, if necessary, prosecute atrocities committed by the Myanmar military. Under universal jurisdiction, a country's courts can investigate and prosecute anyone, not just citizens, for serious international crimes committed anywhere.
A nine-judge panel adjourned a session earlier this week to deliberate on whether to proceed after seeking changes to the petition.
"Amendments to the motion will be presented at a meeting and we will decide whether the case should proceed," Presiding Judge Wahiduddin Adams said.
Among the petitioners are former Attorney General Marzuki Darusman, who chaired a United Nations independent international fact-finding mission on Myanmar; Busyro Muqoddas, former president of the Judicial Commission; and the Alliance of Independent Journalists.
Article 5 of the Indonesian Human Rights Courts Act reads: "A human rights court is also authorized to consider and adjudicate cases of gross human rights violations. committed outside the territorial limits of the Republic of Indonesia by Indonesian nationals".
The petitioners asked that the phrase "by Indonesian nationals" be removed to allow foreigners to be tried in Indonesia for abuses committed abroad.
Feri Amsari, an attorney for the petitioners, expressed optimism.
"I'm confident it will continue because the substance of this matter needs to be heard," Feri told BenarNews.
He said that the application of universal jurisdiction is important because it is in line with the mandate of the Constitution that Indonesia plays an active role in promoting peace and justice in the world.
"The state has a responsibility to protect victims of massive and systematic crimes against humanity, regardless of national borders," Feri said. "Indonesia should show that there is no safe haven for perpetrators of gross human rights violations."
Human rights group Amnesty International reported that 147 nations used universal jurisdiction involving one or more crimes in 2012.
For instanceArgentinian justice decided in November 2021 that it investigate allegations of war crimes committed in 2017 by the Myanmar military against the country's Rohingya minority, under the principles of universal jurisdiction.
The Burmese junta criticized
The Indonesian petitioners are seeking to sue Myanmar for not being a party to the International Criminal Court as it has not signed the Rome Statute, the treaty establishing the court.
Myanmar forces have killed more than 2,300 people since the military seized power toppling an elected government on February 1, 2021, according to activists and media.
Indonesia and other members of the Association of Southeast Asian Nations (ASEAN) have criticized Myanmar's military for failing to implement a five-point consensus agreed by its chief of staff. junta, Min Aung Hlaing, and regional leaders on April 24, 2021.
The consensus called for an end to the violence; constructive dialogue between all parties; the mediation of these talks by an ASEAN special envoy; the provision of ASEAN-coordinated humanitarian assistance; and a visit to Myanmar by an ASEAN delegation to meet with all parties.
Calls for ASEAN to punish Myanmar's junta grew after the execution of four political prisoners in July.
Human rights activists have welcomed the petition for universal jurisdiction.
"If it is granted, it is certainly positive because we can help to break down the obstacles to the protection of human rights in the region, including [abuses] endured by our brothers and sisters in Myanmar and journalists in the Philippines who are often persecuted during elections, and in Thailand," said Dinna Prapto Raharja, former Indonesian representative to the ASEAN Intergovernmental Commission on Human Rights.
Andreas Harsono, researcher for Human Rights Watch in Indonesia, echoed Dinna.
"It would be nice if the court ruled in favor, because it would be a warning for officials to continue to respect human rights in decision-making," Andreas told BenarNews.
He noted that Indonesia would be the first Southeast Asian country to adopt the principle.
"Once it becomes a universal jurisdiction, not only are citizens of other countries affected, but our citizens can be affected in other countries as well," he said.