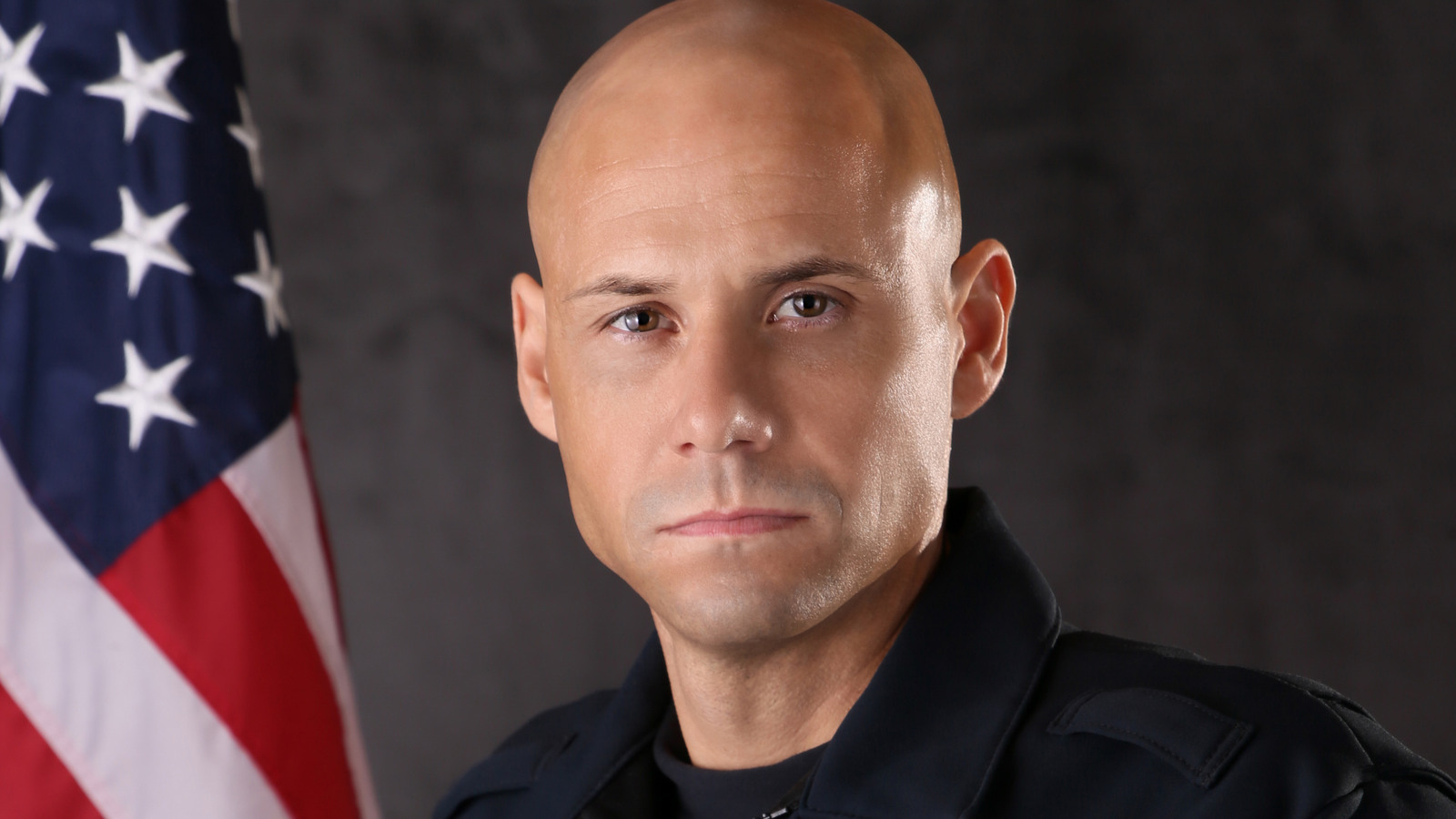 How Deer Hollow helped a police officer recover from PTSD
At first glance, Jared Nesary appears to be an actual GI Joe action figure. He's tall, muscular, and has a defined jawline and the stereotypical tattoos of a warrior.
Jared's resume continues to paint the picture of a true American hero: United States Marine Corps veteran, 22-year law enforcement officer, SWAT operator, K-9 handler, master instructor active shooter/rescue team, senior de-escalation instructor, school resource officer, gang officer and training officer. What Jared's tough exterior doesn't show is the prolonged exposure and effects of cumulative trauma; the mental and emotional wear and tear of more than two decades of public service to his country and his community.
Psychologists claim that law enforcement officers experience direct and indirect trauma at a significantly higher rate than their civilian counterparts. "First responders have many vulnerabilities due to their constant exposure to death and destruction. There are other risk factors for them and others experiencing cumulative stress that put them at higher risk for post-traumatic stress disorder (PTSD)," writes Dr. Michelle Maidenberg.
Jared's story of trauma begins long before his military and law enforcement service. From an early age, Jared experienced violence and abandonment. This exposure laid a rocky psychological foundation for the rest of his life. As Jared went on with his life, he experienced loss and grief. However, instead of processing and healing from those experiences, Jared did what most law enforcement officers have done historically, he dug them deep, sucked them in, and carried on. He was a Marine, a SWAT cop and he had no time to talk about feelings and emotions or show his weakness.
One of the biggest losses was when Jared's police partner at K-9, Bruno, died of an autoimmune disease. By this point in Jared's life and law enforcement career, he had been exposed to multiple traumatic events including homicides and suicides, been threatened and assaulted by criminals, and had seen two weddings. collapse. But it was the loss of his best friend, Bruno, that really upset him. The cumulative stress at this stage of his life was affecting his mental health and well-being.
This one call
Then, on November 27, 2017, Jared received a call that became a breaking point that sent him into the dark. Jared states that either you got this call or this call is coming for you.
Jared and his law enforcement partners responded to a sent call of an armed robbery. Officers quickly located the suspect vehicle, a Jeep Cherokee. Officers attempted to carry out a traffic stop, but the driver of the Cherokee took off at high speed. The ensuing high-speed chase led out of their municipal jurisdiction and into other towns farther afield. Jared was initially vehicle number two, tasked with calling the pursuit to dispatch and other responders. Other officers joined the pursuit as the Cherokee continued to flee. The suspect then began shooting at the officers.
As the chase continued, she came within a mile of Jared and his wife's county residence. When the Cherokee finally came to a stop, the suspect quickly exited with a gun. Officers were forced to use their firearms to prevent the suspect from killing them. By the time Jared joined the two officers who had shot the suspect, the suspect was down and not moving.
The aftermath of an officer-involved shootout is a surreal experience – flashing lights, crime scene tape, medical personnel, county corners, administrative staff, and investigators. Jared's captain arrived at the scene and told him to come to the station to be questioned by detectives as a witness officer.
As Jared returned to the police station, he relived the near-death experience. He felt overwhelmed with emotion, but he refused to cry. It must have been tough. At the police station, Jared felt lost and alone. While waiting for the detectives, Jared's lieutenant and captain (both served on the SWAT team with him) told him that the detectives were going to be a bit and they asked him to get back on duty and handle some calls pending service.
Jared was in a daze, fighting back tears, but he didn't want to appear weak or show fear. After all, he hadn't fired his gun. Jared did as he was told but was operationally ineffective. He remembers that he did not handle a single service call. At around 5:30 a.m., just before leaving his shift, Jared was able to provide his statement to station detectives.
Decomposition
As Jared drove home, he once again relived the high-speed chase and gunfire. At home, Jared couldn't sleep. He had been on Ambien for 5 years to help him sleep due to his shift at the cemetery, but Ambien had no effect on him that night. Jared had nightmares, flashbacks and reliving chasing and shooting again. He heard sirens ringing in his ears for the next three days. He couldn't open up to his wife, who was also a police officer and involved in the pursuit. He didn't know what was wrong with him and he was afraid to tell or tell anyone. Jared returned to work the next evening.
In the days and weeks that followed, Jared grew increasingly restless. He was unreasonably angry at people who lied to him on normal duty calls. He had a visceral reaction as he sat at home one evening with his wife eating corn chips. He felt her eat his corn chips as she bit. It was all he could do not to explode in rage.
Jared's mental health began to deteriorate rapidly. He was too embarrassed and ashamed to tell his wife. He was a lost and broken man. He thought that ending his life was a possible solution to end the pain and suffering. At his breaking point and in an act of self-compassion, Jared did the bravest thing he had ever done. He asked for help. Jared contacted the department's police chaplain who was also a retired officer. The chaplain listened, empathized, and referred Jared to Deer Hollow.
Treat invisible wounds
Deer Hollow is located in Draper, Utah. It is a leading mental health center for trauma treatment in the country, specializing in first responders and military personnel suffering from PTSD, anxiety, suicidal thoughts, substance abuse and behavioral addictions . Its clinical team has extensive experience and deep cultural competency to effectively address the often invisible wounds that first responders carry from their profession.
During admission and assessment, staff at Deer Hollow asked Jared why he was seeking treatment now. Jared's response was raw and genuine: "I want to be Jared again!"
Jared says that during the treatment, "I had to take the armor off, be vulnerable and surrender." And Jared did just that. He immersed himself completely in the treatment, following the schedule and treatment plan designed by the medical staff. Some treatment sessions took Jared out of his comfort zone, but he was determined to heal and he learned to trust the staff at Deer Hollow. Jared faced years of repressed and deeply rooted trauma from his childhood and serving in law enforcement.
As Jared unpacked his trauma, something remarkable began to happen. He started feeling like Jared again.
Jared eventually returned to work and in December 2020, retired from law enforcement. Jared is now the first responder coordinator at Deer Hollow and travels across the country to share his story and inspire first responders to "break the stigma" of shame around mental wellness struggles that often keep them from asking for help. ugly.
Paying it forward is part of his healing. His mantra that he passes on to other first responders is: "You are never alone".
"No matter how dark the darkness gets or how far you have fallen, you are never alone in this battle," he said. "There are professionally trained trauma therapists who understand our culture and speak our language. We want to be able to pick up our memories, we don't want our memories to pick us up. Trauma is treatable and does not have to be a death sentence.
The treatment saved Jared's career and his life.
Jared's story is just one of many first people who had the courage to ask for help. Now Jared is wearing a big smile. He got his life back, thanks to people like his police chaplain and the professionals at Deer Hollow. Jared is also knowledgeable about the healing process and is dedicated to helping other first responders, military personnel, and veterans in their battle with PSTD and other trauma struggles.
In the words of Chief Warrant Officer Dashiell R. Faireborn, "knowledge is half the battle."
Learn more about Jared, Deer Hollow, and free trauma-focused mental health and wellness training for first responders, military, veterans, peer support, correctional officers, and chaplains, by visiting www.deerhollowrecovery.com or emailing [email protected]
NEXT: The Mind-Body Connection: Emotional and Biological Effects of Hypervigilance