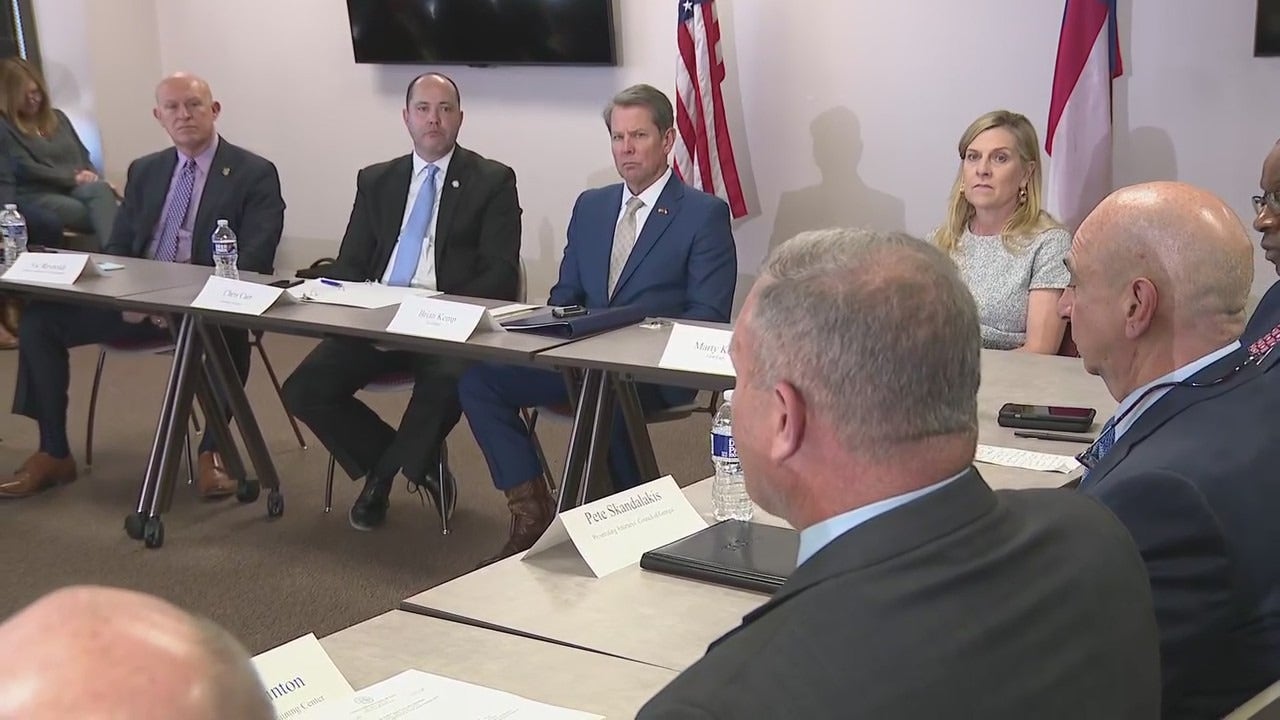 Georgia Anti-Gang Network Meets Days After Atlanta Police Officer Shot By Known Gang Member
ATLANTE – Georgia Governor Brian Kemp, First Lady Marty Kemp and Attorney General Chris Carr attended a meeting to discuss state and local efforts to support law enforcement and other state and local partners in the fight against the activities of criminal gangs in Georgia.
Kemp and Carr urge lawmakers to help law enforcement tackle gang activity. The two spoke candidly about the state's gang problem Wednesday after meeting with specialists from the local, state and federal gang task force.
The governor and attorney general said local and state law enforcement must work together to quell gang-related activity and that violent crimes are innocent civilians and police are often the victims.
"They shoot first, ask questions later and that's what our men and women face every day," the governor said.
ATLANTA OFFICER INJURED BY KNOWN GANG MEMBER IN RECOVERY BUT STILL HOSPITALIZED
Governor Kemp took aim at Georgia gang members and the havoc he said they are causing in major cities and rural areas.
"It's a daily problem for us and the State Patrol Crime Unit here in Atlanta. I mean we literally fight this every day across the state with GBI," said Kemp.
The governor cited Monday's shooting of Atlanta police officer David Rodgers who was trying to execute a warrant for his arrest when he was shot six times by a man identified by police as a known member of gang.
"Thankfully this officer, surprisingly … is doing relatively well. I want to continue our thoughts and prayers," Kemp said.
GEORGIA GOV. BRIAN KEMP PLANS TO INTRODUCE BILL GIVING LAST SAY TO PARENTS ON MASKS IN SCHOOLS
The Georgia Anti-Gang Network is a task force formed by the Georgia Attorney General's Office and the Georgia Bureau of Investigation and other state and local law enforcement agencies. At a Wednesday afternoon meeting in Atlanta, Attorney General Chris Carr said 60% of all violent crimes in Georgia are gang-related. And 80% of human trafficking, he said, is also linked to gang members.
"It's all about making money right now. Selling guns, drugs, human beings, cybercrime, even stealing people's benefits, anyway to make money, those are the gangs…retail organized crime," Carr said.
A 2018 survey of local law enforcement in Georgia indicated that all but two counties in the state experienced gang activity.
"It's not just an Atlanta problem," Carr said.
Carr wants legislation that would expand the reach of state court officers trying to help local jurisdictions crack down on gang activity. He and the governor said it would help keep civilians and officers safe.
"We're going to keep moving the needle, but we need everyone else in the fight at the grassroots level with us. And we need to pursue those people. The boots on the court make the difference," Kemp said.
The governor said he is not relaxing on state-level efforts to crack down on violent crime and gang activity. He said the arrests of several murder suspects in recent months is proof that state intervention makes a difference.
The working group will meet later this year.
WATCH: FOX 5 NEWS LIVE COVERAGE