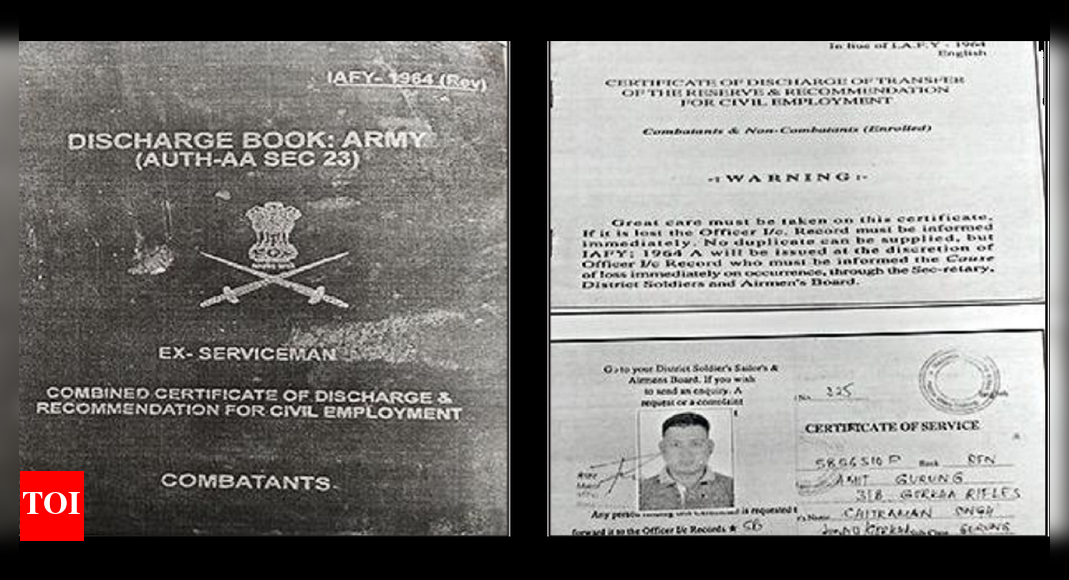 Dehradun: Gang Fabricating Fake Army Documents Sent Over 500 People Abroad, Military Intelligence Says | Dehradun News
DEHRADUN: Military Intelligence (MI), as part of its ongoing investigation into a "kabutarbazi" gang – a generic term used to refer to groups that send people abroad using false documents – has discovered that they had sent over 500 Indian and Nepali citizens to fake indian army papers in several countries like Iran, Kuwait, Afghanistan and Pakistan (to work for China-Pakistan Economic Corridor) in recent years.
MI sources told TOI that it dismantled the gang last year in Dehradun in a joint operation with the Uttarakhand Special Task Force (STF). Three people were arrested, including a 64-year-old man who was allegedly the kingpin. According to MI officers, two of the gang members are still at large, with one hiding in Nepal.
One of the MI officers, on condition of anonymity, said: "The gang had sent more than 500 Indian and Nepalese citizens abroad with fake pension payment order books and discharge books of service, which are given exclusively to genuine army retirees."
These documents, which would aid in the identification of army personnel, were used to obtain visas.
He added: "Almost all 500 were from Indian and Nepalese Gorkha communities, as retired Gorkha
military personnel
are in high demand to work as security personnel in foreign countries, especially those in the Gulf. MI in its investigation found that they were mostly sent to Afghanistan, Kuwait and Iran with the help of employment agencies operating there."
The officer said those sent to Afghanistan worked in the embassies of several Western countries, earning high salaries.
"The gang was charging around Rs 2 lakh-Rs 5 lakh per person, including Rs 60,000 for the whole fake army documents. Some of the men were sent to Afghanistan and ended up stranded with real former Indian Gorkha servicemen in Afghanistan last year after the Taliban seized power. The Indian government then had to conduct an evacuation drill to bring them back. We are now looking for any 'fake' ex-
military
among the lot," he said. "MI is currently investigating whether any members of foreign intelligence services were also associated with the racketeering."
Meanwhile, the Uttarakhand STF, which had dismantled the gang in a joint operation with MI last year, sent a detailed case report to the central agencies concerned. Ajay Singh, SSP (STF) said, "We have conducted an investigation in accordance with our jurisdiction and sent a report to the relevant central agencies, which have jurisdiction to look into aspects such as espionage and counter-intelligence."